Newborn baby photoshoot Milton Keynes
I am a newborn baby photographer based in Milton Keynes providing professional newborn baby photoshoot services for Milton Keynes, Luton, Bedfordshire, Northampton, Olney, Aylesbury, and Leighton Buzzard.
A newborn baby is so tiny and pure bundle of joy. After carrying a baby in the womb for a long 9 months while waiting patiently for every second for her to arrive, you can't stop cuddling her. During those first few days, the baby comes with unique details. It is that time when you can get them captured in photographs, all their perfect details to memory.
"A new baby is like the beginning of all things – wonder, hope, a dream of possibilities."

– Eda J. Le Shan
I am fully trained in all aspects of newborn baby posing and safety. Your baby's comfort and well-being are our #1 priority. I will never attempt or force certain poses when it's clearly not comfortable for the baby. When one baby can be very relaxed in some poses, the same setup may not be as ideal for another.
I strive to create a unique experience for every client. I love to create each session fully styled to my client's needs. That is why I always keep myself looking for trending custom props for newborn sessions. I have many beautiful custom hand-knitted outfits, and props ranging from bed, beds, bowls, buckets, baskets, and so much more.
Your newborn baby will only be this little once and choosing Papaya Peach Photography to capture every detail of your precious miracle is a decision you will never regret. Preserving these memories allows you to look back at these images for years to come and cherish every part of your baby long after they've grown.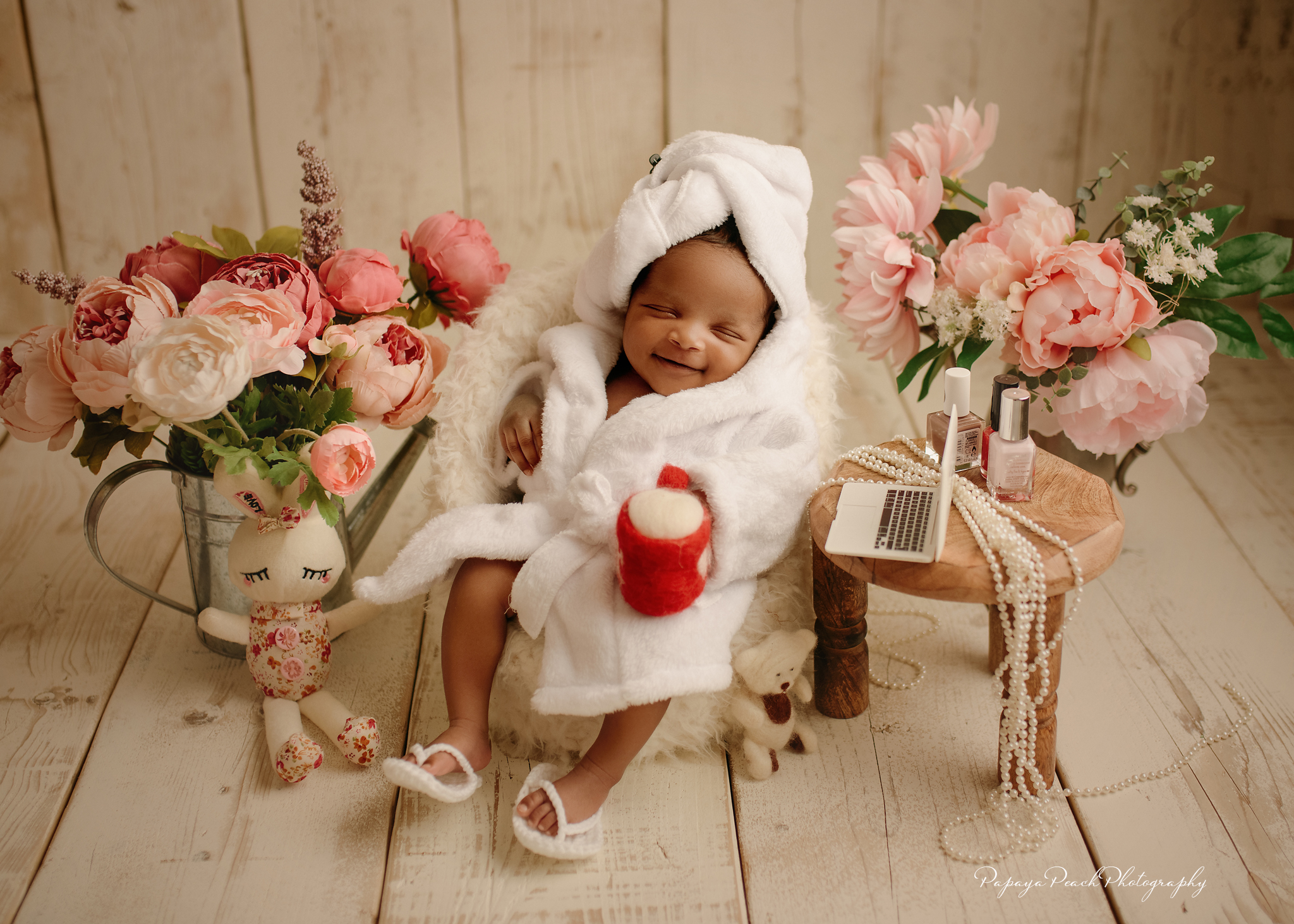 DISCOUNT OFFER
Also, please do not forget to check the bump to the baby package. 
If you purchase any maternity package with a newborn package, you would get a £25 discount on the total price. 
FAQ
Q- When Is The Best Time To Book A Newborn Session?
A- In order to give my clients the most customized experience I take a very limited amount of sessions per month therefore typically book up 2-3 months in advance. I would give you a provisional date according to the due date which would change according to the newborn arrival.
Newborn Baby photography sessions are best scheduled within the first 21 days of birth when the baby is still very sleepy and fresh out of the womb so that they are easily mouldable into those cute little poses that you see. This way we get the beautiful sleepy, curly poses you see in my portfolio.
Depending on when our scheduled babies arrive, we may have last-minute session availability so if your baby is already here, please reach out to see if I can still accommodate you.
Q- How does booking A Newborn Shoot Work, What If The Baby Comes Early Or Late?
It is common that babies can arrive earlier or later than the expected due date.
If you are interested in booking a newborn photoshoot with me, I reserve a tentative date based on the due date. Once the baby has arrived you need to contact me within 48 hours so we can book a time within the first 3 weeks of birth.
​
Q- Where Do Sessions Take Place?
A- All of my studio work (Newborn Sessions & Other Indoor Portrait Sessions) are shot at my in-home studio located in Milton Keynes.
Family and maternity sessions are shot within Milton Keynes & the surrounding area or in-studio.
Q- How Much Will My Photos Cost?
A- For pricing please visit here – Newborn photography in Milton Keynes

All prices shown on this website are inclusive of a digital gallery of high-resolution, edited, un-watermarked no. of images you have purchased with print release.

At Papaya Peach Photography, we believe in serving our clients with full transparency and will never bait and switch or require our clients to attend a high-pressure sales appointment after their sessions. There are no other hidden charges so there are no unexpected surprises after your photo shoot.
Q- What To bring?
A- When you have booked your newborn session with me I will send you a detailed information sheet on how to prepare for your session along with what to expect during the session.
You don't need to bring any dresses or props for the baby, I have them all. Bring a few things like 2- 3 extra nappies, towels, and food supplies for a baby for 3 hours.
The only thing you might want to take is your sentimental items. This can be a blanket, a piece of jewelry, a tieback, or your wedding ring.
Q- Do I Need To Bring My Own Outfits And Props?
A- No of course not, I have a very good collection of trendy props and accessories needed for the session.
Q- What about circumcision?
A- We will schedule at least 5-7 days after the procedure.
Q- What If My Baby Still Has Cord Clamp Attached?
A- Newborn sessions are best scheduled within the first 21 days of birth when the baby is still very sleepy and fresh out of the womb so that they are easily mouldable into those cute little poses that you see. The cord stump usually stays attached for 5 to 15 days. I would say it is better to schedule the session once the cord dries, shrinks, and falls off. Because during the session baby changes into multiple outfits and wraps. In the worst-case scenario, if it gets pulled, it might start bleeding.
Q- What to dress the baby in?
A- Nothing over the head; zip-up or snap-up onesie/sleeper.
Bring a pacifier. ESSENTIAL! The "smoothie" pacifiers are best for newborns. Make sure the baby has a loose diaper to prevent diaper lines for photographs.
Q- How long will the newborn session last?
A- There is no way to determine how long a newborn session will take. It all depends on the baby but approximately two to three hours. So please schedule your day accordingly. We keep sessions relaxed & low-stress.
Q- Is newborn photography safe?
A- The answer is yes! That said, you will want to make sure you are entrusting your baby not only to someone skilled at photography but also at working with babies.
I always make sure the health and safety of my newborn are my first concern. Safety always comes first which is why I am fully trained in safe newborn posing.
My photo sessions are always baby-led, you will never be rushed, and always cater for feeds, and nappy changes to ensure you really get the best from your experience.
Q- Can I recommend any specific poses?
A- Yes, you can recommend poses but it would totally depend on the baby and how they are feeling. Due to safety reasons, I will try not to guarantee specific poses. I like to do what the baby likes and not force any poses. Some babies just do not like specific poses. That is what makes a newborn session unique.