Cake Smash Photography Milton Keynes
Is your child turning ONE?! The first birthday is one of the biggest milestones. Celebrating it with a cake smash photography session is a fun way to mark your baby's 1st birthday.
A cake smash photo shoot is a great way to express your baby's unique personality in a relaxed and carefree way. These first birthday photoshoot sessions are taken place in my purpose-designed home studio in Milton Keynes.
Although originally a fun trend in the US, cake smash photography is now hugely popular in the UK, particularly in Milton Keynes, Northampton, Bedford, Aylesbury, Luton, and Olney. Milton Keynes Cake Smash Photography.

Cake smash sessions are comprised of three parts as below.
1. Portrait of the baby in the selected theme.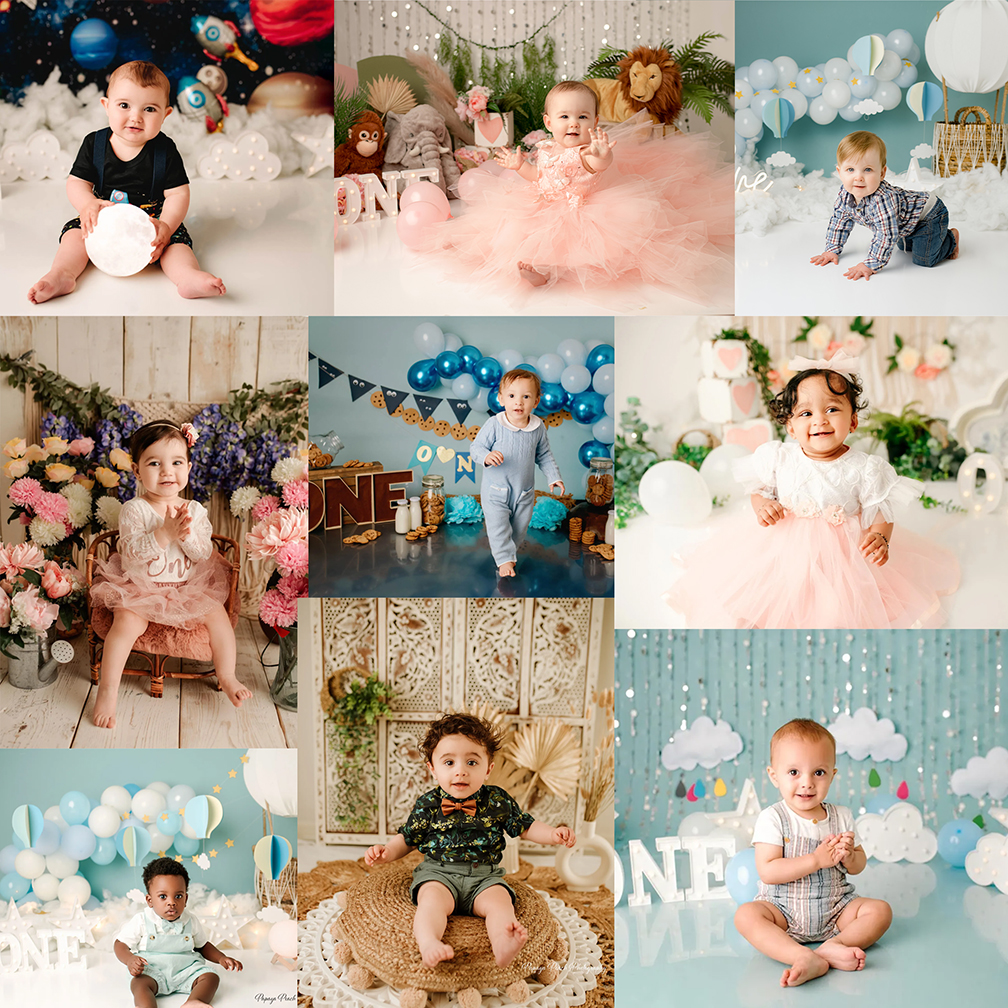 2. Then comes the main part – smashing the cake and creating a mess. Honestly, I love this one.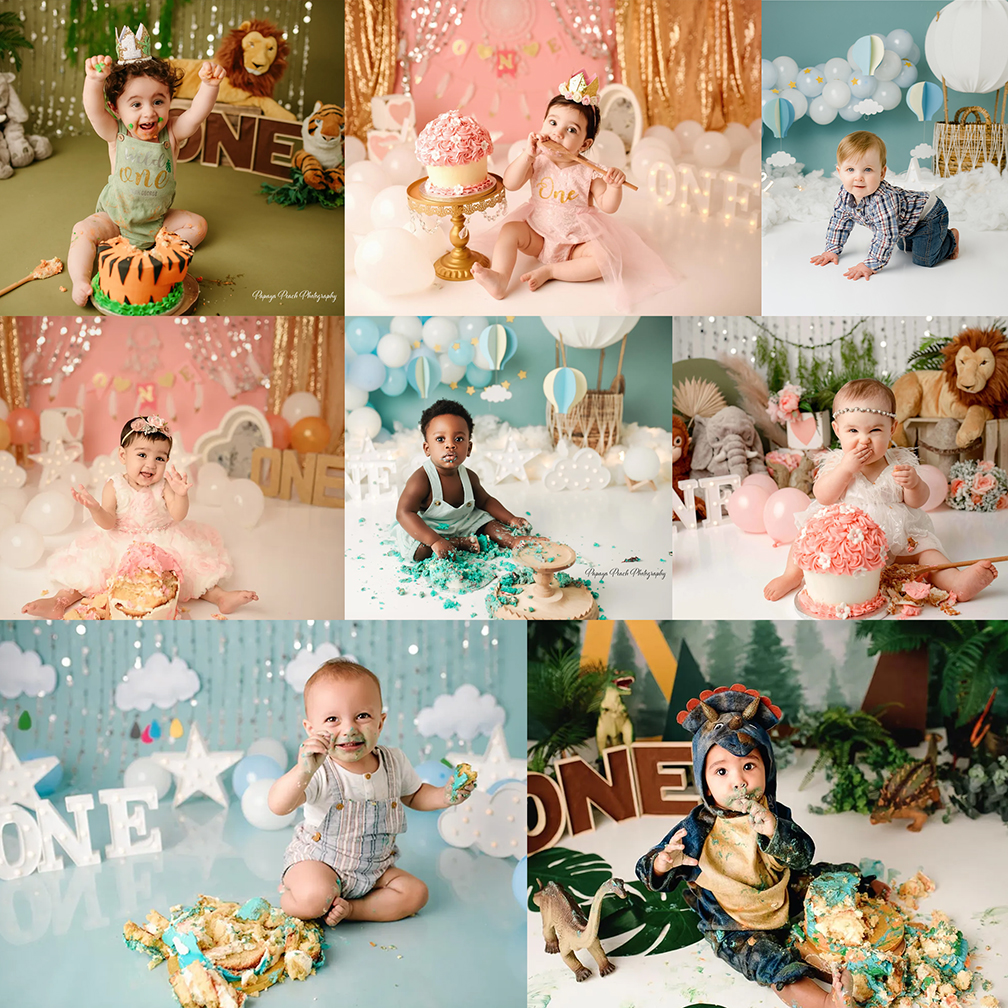 3. At last warm bath in the designed rolled-top bath with lots of bubbles.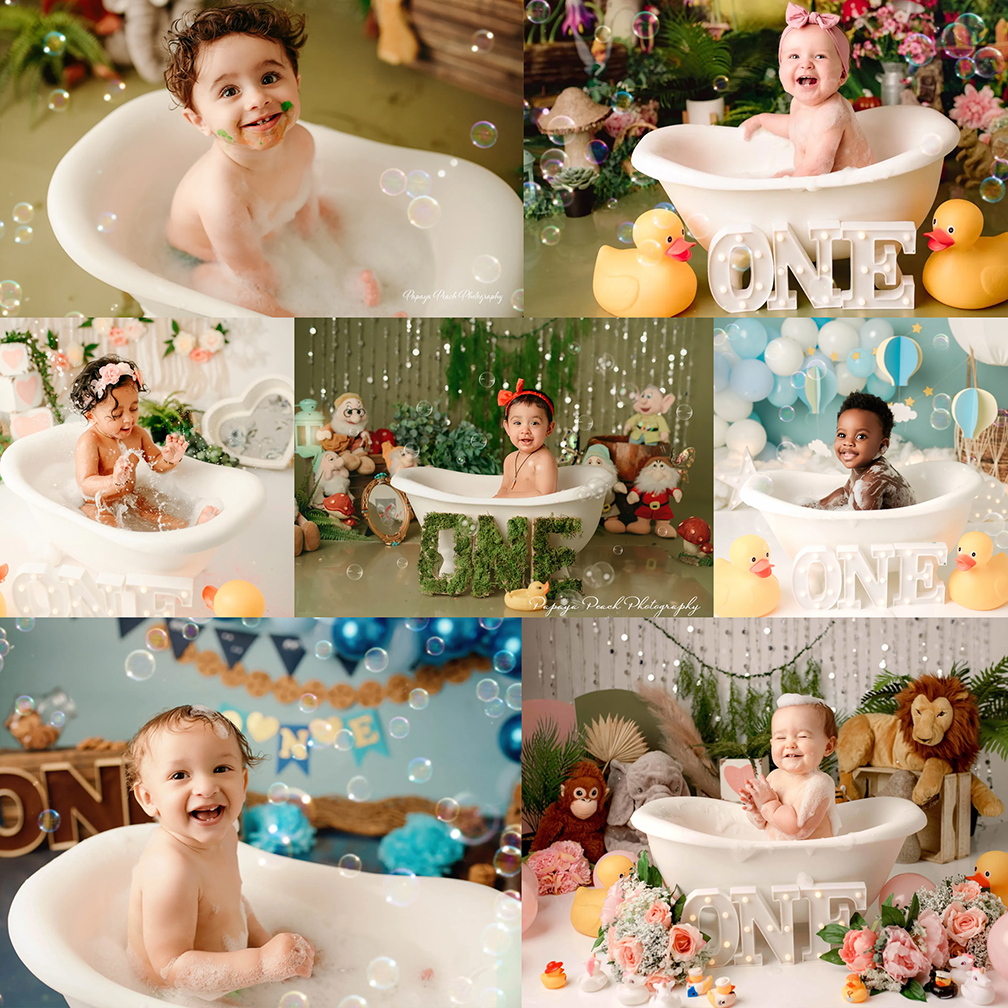 4. If you have purchased the cake smash package in which a family photoshoot is included, there will be a separate mini family photoshoot after the end of the main cake smash session in a plain backdrop of your choice. The dress can be changed for this part.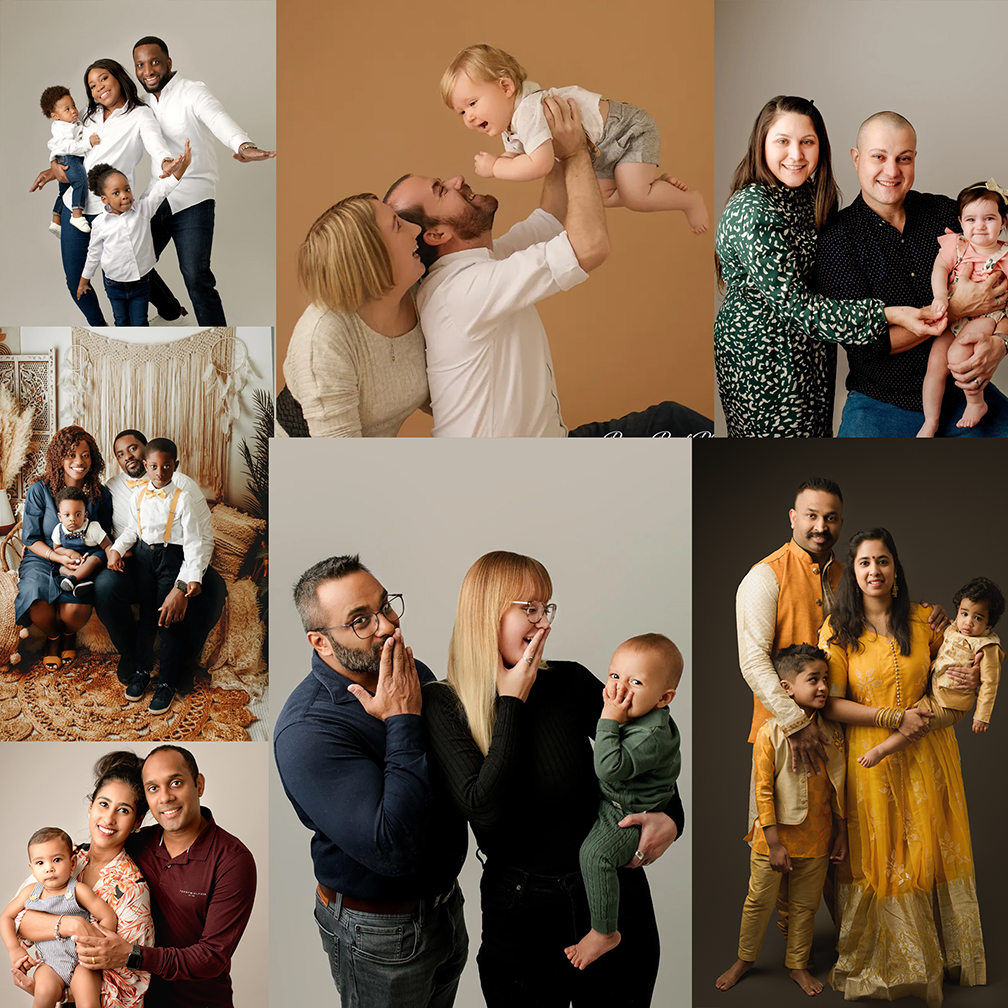 Planning a cake smash photoshoot session
Planning 1st birthday cake smash session involves lots of activities like designing a theme, purchasing props, and then creating a theme and editing and uploading the created theme on the website. Each theme for cake smash takes a few weeks to get ready. That is why I always push myself to create new themes so that there are plenty of them available to you to choose from. There are so many ideas for both baby boy cake smash and baby girl cake smash. Please find a variety of available themes for your little one's special day.
WHEN TO BOOK
Cake smash sessions are done for babies at 11 – 13 months of age. It's best to book a date 4 weeks before your child's actual birthday to ensure you will have those precious images ready to share when the big day arrives.
I have a limited number of available sessions each month. It is best to secure your session 2-3 months in advance to avoid disappointment.
HOW TO BOOK
Please find full pricing and booking info here – Cake Smash packages and booking info
At Papaya Peach Photography, we believe in serving our clients with full transparency and will never bait and switch or require our clients to attend a high-pressure sales appointment after their sessions. There are no other hidden charges.
What a cake smash session includes
Exclusive use of my Home Studio
Session Fees
A custom outfit for the baby is provided if desired.
A custom cake is included.
Use of my extensive range of props and accessories.
Portraits of baby, Cake smash session, and Splash Tub session at the end.
Professional editing and re-touching of all images.
What to expect from the session?
1. Don't assume Bub will dive right in
At first, all parents hope that their little one will dive in and make a mess of the cake. That's what you are paying for! But that doesn't always happen and that's okay. Not every child wants to dive right in and make a mess no matter what tricks we try.
2. Come prepared for a big mess
Once the baby is covered in frosting, parents also get their clothes messy too (picture your little one running/crawling straight towards you with frosting-coated hands,) so a change of clothes for everyone.. not just the birthday boy or girl is a good idea.

3. Book in advance and please come on time
Book your session early so that you get the date you want. Cake Smash Photography books out QUICK!!!
Some parents want their cake smash pictures ready for their child's birthday party to print out and display, if so please book your session at least 5 weeks before the event.
Edits usually take around 3 weeks to complete.

4. Refund Policy
Cake Smash Photography will not give a refund due to the mood of your child.
There are times when little ones don't cooperate or smile like we wish they would. If your little one comes to the Cake Smash Studio and ends up being quite distressed while taking photographs and needs little time, I am always happy for you to leave for a couple of hours (If time allows for this) and come back later on in the day when your child has calmed down at no charge to continue the shoot.
For more information please visit – terms and conditions.


FREQUENTLY ASKED QUESTIONS
HOW ARE THE FINAL IMAGES SELECTED?
I shoot for how many images you have chosen to purchase and edit the best images from your session. I make sure to choose the best images that best show off your little ones' Cake Smash experience with different angles and poses.
HOW LONG DOES THE SESSION LAST?
We allow approx. 60 mins studio time. But it may go up to 1 1/2 hours depending on the baby's mood.
WHERE DOES THE SESSION TAKE PLACE?
The session will take place at my home studio. This is based in Bradwell, Milton Keynes.
The full address will be provided to you at the time of booking.
I HAVE TWINS, IS THERE ANY EXTRA CHARGE FOR IT?
No!
There are no additional charges for the immediate family such as siblings and twins.
CAN YOU GIVE ME A WEEKEND SLOT?
Weekend(Saturday) dates would be available at an additional charge.
CAN I GET TWO THEMES FOR MY CHILD'S CAKE SMASH SESSION?
Sorry, it's not possible. Each theme takes a lot of time, effort, and space to create, I create a theme in one day advance for the next day's session. Each session has only one theme.
HOW MANY OUTFIT CHANGES DO YOU PROVIDE FOR THE BABY?
My little client's wardrobe is full of matching outfits to the theme. It totally depends on your baby's mood. Most of the clients do one changeover.
DO YOU INCLUDE THE CAKE?
Yes! Papaya Peach Photography hires a professional cake maker to bake and decorate all my cakes! For this reason please let me know if your little one has ANY allergies.
CAN THE CAKE BE CATERED FOR ALLERGY FREE/DAIRY-FREE ETC?
My cake supplier does not provide allergy-free cakes. If your child is allergic to any food ingredients please inform me as soon as possible so that I do not place an order for a cake. In that case, clients will be asked to bring their own cake. Please note cake price will not be discounted from the package.
MAY I INVITE FAMILY MEMBERS TO THE SESSION?
The cake smash session is limited to immediate family members only. The reason is that when many people trying to get your child to smile or talk will distract your child. We want him/her to concentrate on the cake and look at the camera. Sometimes when babies came just with their mum only session went amazingly well.
WHERE IS YOUR STUDIO?
My home studio is located in Milton Keynes.